Hi guys! I am so sorry, I meant to have a surprise blog post up for you guys today but it didn't work out because my computer acted out and I lost the site, so I did a very popular blog post and decided to show you guys some last minute DIY halloween costume ideas, so let's just get right into it!
1. CLASSIC SCARECROW COSTUME
•Plaid shirt
•Jeans
•Brown boots
•Floppy brown hat
For the makeup look, take your eyeliner, and draw out a dotted line below your cheeks, and then around your nose.
2. GREASE COSTUME
•Black off the shoulder crop top
•Black jeans
•Red heels
•Hoop earrings
For the look, you want to curl your hair, or pull your hair back into a ponytail to the side slightly.
3. CUTE MINNIE MOUSE
•Black crop top
•Red and white skirt
•Black heels
•Minnie mouse ears
I think that for the makeup, you should use a cute lip gloss and a neutral eye, but make sure to keep it looking natural.
4. ROSIE THE RIVEDER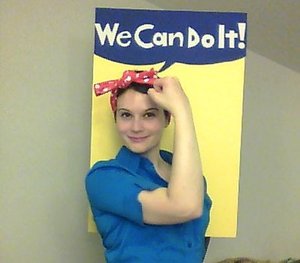 •Denim shirt
•Jeans
•White sneakers
•Red and white polka dot bandana (you can also take a plain red one and use a round tip sponge brush and dip that in paint, and wait for that to dry)
Take a yellow poster board, then cut out a blue speech bubble, and this part is optional, but you can cut out white letters reading "WE CAN DO IT!" or you could draw it out with white sharpie.
5. CAT COSTUME
•Cat ears
•Black crop top
•Black skirt
•Black sneakers/flats
For the makeup, definitely go for a winged eye, no eyeshadow, and a black lip to spice things up and go for a more daring look.
Hope you guys enjoyed this, and I'm so sorry that the whole secret blog post didn't work out, but maybe next time. Kisses to my neonators!
XOXO,
Neon Dots