Hello guys! Okay, I don't know about you, but my desk is always messy because I don't really have a place to keep all my things together, so having a desk organizer is great, however, they can be really big or small, and can also be quite pricy. This DIY is taking some different sized cereal boxes or maybe granola bar boxes, and making them into a desk organizer, which is super cheap, and you can adjust the size to your liking, so I don't want to keep you waiting for too long, and let's get started!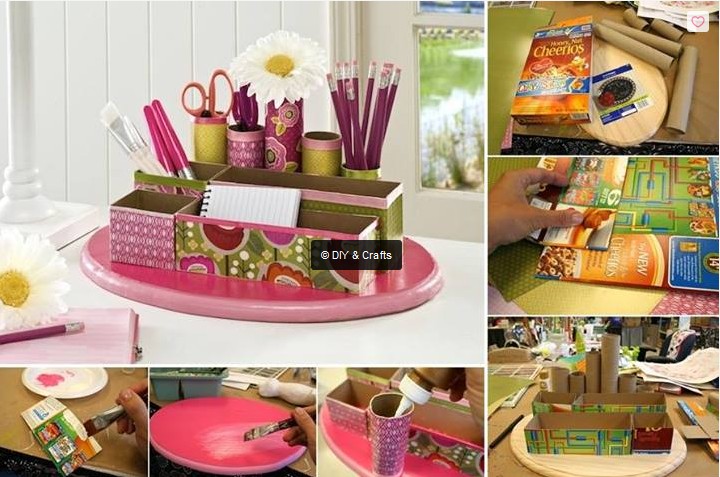 -Different sized toilet and towel paper rolls
-Round wooden platform (optional)
-Construction paper
-Washi tape
-Modge podge
-Sponge brush
-Scissors
-Ruler
-Paint of your choice
Ok, first, take your wooden platform, if you want one, and start painting it with any color of your choice, and once that dries, put a coat of modge podge on it. While everything is driving, start taking your boxes, and you can flatten them out by opening both flaps on the top and bottom, and cut it to the size that you want it too, and you can just secure the bottom on again to close it up.
Start cutting them to your liking, and once you're done with them, measure the measurements and start cutting up the same on your construction paper, and once you have the measurements, then use your modge podge and paint a thin coat onto the back of your paper, and put it onto the box.
Then, if you want to make sure that it will be secure, add another coat of modge podge onto the top of the paper to secure it. Keep on doing that to all of your boxes. You could also use washi tape to decorate the edges.
Do the same with the toilet paper rolls, and once you have everything, lay them out on the platform (oh yes, and you could also do the inside) and once you see what you like, make a small dot for each box so that once you put them down, you'll know where to put it. Then, again, put a thin coat of modge podge, on the bottom, and once that happened, you have your desk organizer made from things around the house, and you really are recycling!
Hope you guys enjoyed this blog post, and I'll see you soon!
XOXO,
Neon Dots