You guys won't be surprised, but I am starting ANOTHER series on my blog guys! I know, I know... I do a lot of new series, but it is a free country, and live your life like it's your last day! (That doesn't really relate to our situation here, but let's just forget I said anything)
Anyways, on this new series, I will be sharing some tips and tricks when it comes to makeup. I have played around with my moms makeup ever since I was little, and one day she decided to buy me some of my own makeup so that I would stop annoying her. I also started watching makeup videos on YouTube when I was little and loved to watch girls apply makeup. I then started to teach myself and yet still get tips from my favorite beauty guru's. Now I consider myself one! :) You could say that I am a master when it comes to makeup now! I always do my friends makeup for Halloween and I will also apply some simple makeup every single day. Now let's stop rambling on about me and let's talk about business cards!
You may be wondering, business cards? How could a simple business card help your makeup routine? It can actually really help. Here is the link to Michelle Phan's video:
https://www.youtube.com/watch?v=oe9472gpWpU
Now I am going to make up some of my own ideas. (Get it, make up? Makeup? LOL. I am so cheesy! Inside joke. Do you know it?) I will first talk about nails, because of course nails are part of the beauty industry!
Nails:
Stripes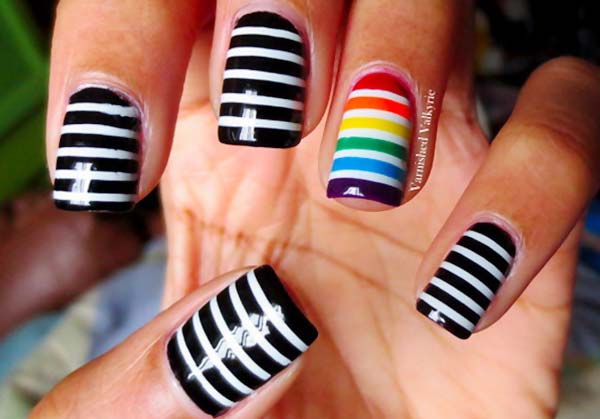 Okay, let's be honest here. Nobody can make perfect stripes on their nails. Why not just use business cards? Apply white as your background and pick a color of your choice. Then lay it flat and make your stripes. Then keep on doing so, leaving the white between your colored stripes, if that makes sense. I think you guys get it.
Makeup:
Eyeshadow! If you want a dramatic, sharp eyeshadow look, then all you have to do is line your business card from your eye upward to the angle you want it to be. Then lay it flat on your face and put on your eyeshadow. Then lift it, as you notice a harsh, sharp line. You can either leave it this way, or you could soften it up with a blending brush to get a round finish
.
Hope you guys found this beauty session! Love you all. Good luck :)
XOXO,
Neon Dots