Hey guys! I wanted to do this post for a while, where I react to outfits from the Grammy's 2016, but since I've been busy for quite a while, so even though the Grammy's ended around a week ago I believe, I thought why not do it? Better now than ever... Let's just get started!
1) TAYLOR SWIFT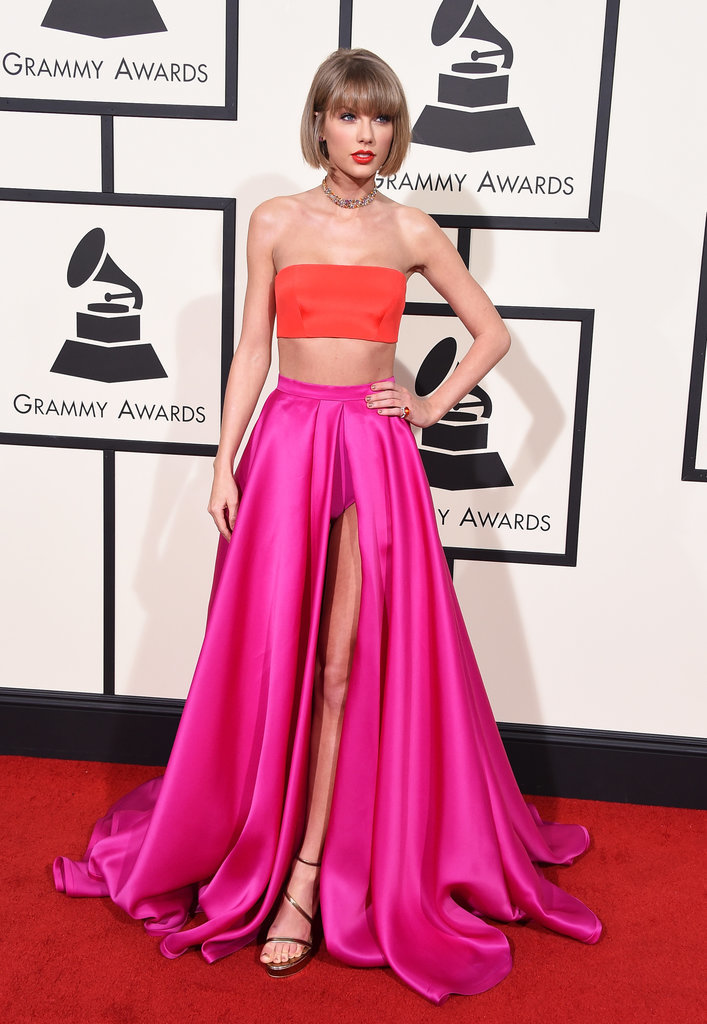 I personally love the color on her! Everybody says that you have to be tan to pull of neon colors, but I strongly disagree. I love how she always gives the audience a surprise because it can either be really sophisticated, or really fun, and I love the slit, I love the crop top, and I love how confidence changes the look, because I find that if you are confident, you will get so many more comments on your outfit, trust me, so Taylor definitely pulls it off, so it's a YES for me.
2) SELENA GOMEZ
As per usual, Selena looks gorgeous, rocking this stunning blue sequined dress with cut outs on her side. I think that the hair could have been different, and although I love the vibes, I just don't know if curling her hair, and then pushing it to the back was so clever, so I would give her a YES AND A NO.
3) TORI KELLY
I love Tori Kelly to death, however, I don't like this on her because I personally think that green on a red carpet isn't the most flattering, and although she has a stunning body, I think that it just doesn't hug at the right places, and I'm not a fan of the hair and how it shapes, although I love the curls (ps. who really wants to see her hair straightened?), and her makeup is literally perfect, but I have to say NO.
4) MEGHAN TRAINOR
Okay, can we talk about the short, curly brown hair? I AM OBSESSED! I love this outfit so much on her, and next time, I'd love to see her in a white dress because I think that she can look really sophisticated, and I love how she always takes her dad, because that's just the sweetest thing, so I love everything here, and I'm glad she didn't go for a big dramatic makeup look because that might be a little too much, so definitely a YES.
5) ARIANA GRANDE
When I saw this, my mouth literally dropped. I absolutely love this dress, I think that it hugs at the right places and she looks absolutely stunning, however I don't know about the ponytail. Of course it's her signature, however I think that it would look even better with her hair down, straight, and back, but she did look amazing, so for sure a YES.
I hope you guys enjoyed this post, and I know I kept it somewhat short, but if I were to talk about some other celebrities outfits, it might get nasty, haha lol. Let me know on Instagram which outfit was your favorite, and what you would rate them using the #lookneondots. Kisses to my neonators!
XOXO,
Neon Dots