Hi guys. I want to show you guys that it's much easier than you think to get organized, and if you have the time out of your day to start getting organized, or take a trip to Target or the dollar store, you definitely should because being organized is a really big new years resolution for almost everybody, other than being fit, and it also feels really good to have one thing in one place, even if you aren't the type of person who's a neat freak, so let's get started! Oh, and before I start, I have a home organization board on Pinterest, which I will link below for you guys.
1)
If you have a lot of soup cans or any type of cans for food that you keep in your pantry, you don't want them to be rolling around, you should definitely use magazine racks, which you can get anywhere, and if you get them at Target (or maybe somewhere else), you can get really cute designs as well, and it seriously saves so much space, you guys have no idea.
2)
This is a very small tip, but if you are a baker or you bake cupcakes a lot, then use a mason jar and your cupcake liners, and just stack them inside the jar, and again, it saves so much space, and you can decorate the mason jar with Washi Tape or what not.
3)
If you have a small cute box, or a box that you can decorate, or if you are a mom and you have some baby wipes that are stored into a plastic box, just wash that, and you can store tampons, pads, and makeup wipes, or whatever you want inside under your sink, and that saves space as well.
4)
Now I couldn't find a picture for this, but if you have some receipts that you need to organize, take a binder clip, and a hole puncher, and hole punch the corner of your receipt and just slip it inside the binder clip, and you can have one binder clip for each month as well, and it's very helpful to have, because you can go back to that specific month and if you want to return something, and you only have a month, it's very helpful.
5)
Use Skubb boxes to store feminine products.
6)
Use a vase for kitchen supplies.
7)
If you have a kid, or if you have a lot of books, you can hang up some spice racks from Ikea or wherever else you shop for home organization. It's also great to store other stuff, not just spices, for example, once again, canned goods, fruits, etc, and I love how you can paint/spray paint it so that you can personalize it to your liking.
8)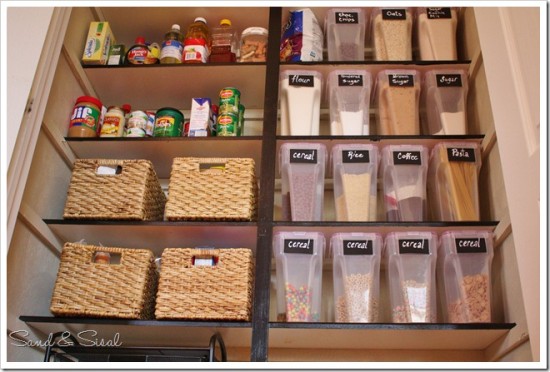 '
Take plastic cereal boxes and label them with a stick-on chalkboard label and take a whiteboard sharpie and write down anything you want.
9)
Use tackle boxes for desk clutter and label them with labeling stickers or the same idea for idea #8, using chalkboard labels and whiteboard sharpies.
10)
Add bins to your fridge to store cans, fruits, and whatever else you have in your kitchen.
If you guys try any of these ideas, use the #lookneondots on Instagram. I would love to see how you guys get organized. Hope you guys found this helpful and make sure to share this with your friends! Kisses to my neonators!
XOXO,
Neon Dots